Negrense Heritage Cooking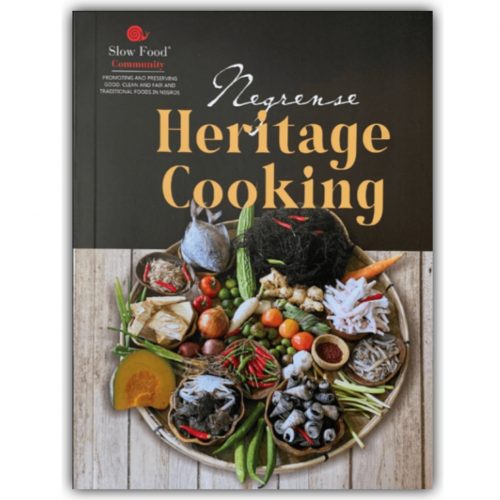 Edited by Mia Lizares Gonzaga
Published by Slow Food Community, ©2020. Printed by Impress Quality Printing Phils. Inc.
From the Introduction: My aunt and godmother, Doreen Gamboa Fernandez, wrote about food and its history long before the advent of digital platforms. One thing I learned from her is that there is always a story behind a certain dish or ingredient. That is the beauty of appreciating all kinds of food, whether it came from a carinderia, a 5-star hotel, or a Michelin-star establishment. Her husband, Wili Fernandez, was the ultimate foodie. When he would go abroad, he would stalk all these places. He loved all those stalls in Hong Kong where the waiter would just look at the size of the plates, and he knows how much your bill was. He also loved lavish dining where one had to dress up to the nines. He and Tita Doreen traveled and ate, and she put their experiences in writing. She wrote beyond what she tasted. She wrote about how a particular food is a part of our history and culture. She wrote about the joy of tasting, and not just eating. She taught her readers how to appreciate each ingredient that makes up the whole dish. That is how I am, too, and, I guess the rest of the Aguinaldo and Alicia Gamboa clan. Because of that, appreciation of the Slow Food Movement Advocacy has become even more meaningful for me.
My great grandfather, grandfather, and father were farmers. I am now a fourth-generation farmer still learning the ropes. However, I do realize one thing, we must not let our indigenous food sources disappear. Food sources we take for granted like balunggay, banana, the coconut tree, lupo and others must be protected. It has become a personal mission for me as I slowly replant those that have been forgotten and try to protect what is left of those food sources, including poultry and meat.
-Reena Gamboa
Description: 82 pages : color illustration ; 23 x 17 cm
Language: English