Fishes of Light: Tanrenga in Two Tongues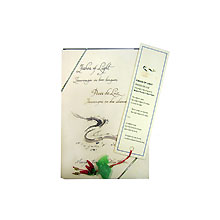 By Marjorie Evasco and Alex Fleites
Published by SIPAT Publications, ©2013.
How does one catch the moment's glimmer on the ocean of consciousness? Two prominent poets from the Philippines and Venezuela give this a try with a net of words called tanrenga, a Japanese form of poetry. Featuring poetry in both English and Spanish, Fishes of Light includes a bookmark with a quotation from the authors.
Language: English
ISBN: 9789718878