Error-Proofing your Research: Common Mistakes and How to Address them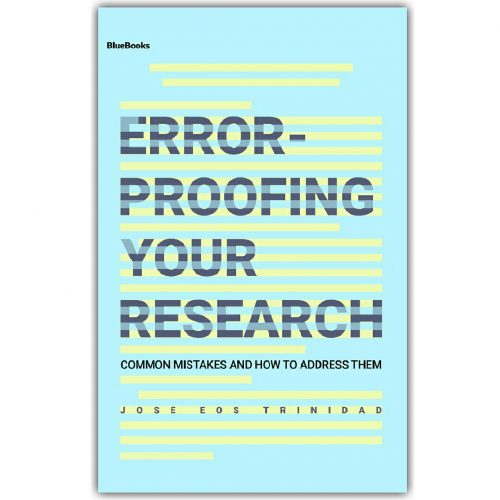 By Jose Eos Trinidad
Published by Ateneo de Manila University Press, ©2019.
Students and beginning researchers often find writing research difficult, and the process itself may be filled with mistakes and missteps. To help address or avoid some of these mistakes, Error-Proofing Your Research outlines common research mistakes, from the start of the research project until its submission for potential publication. The book illustrates these mistakes and suggests ways to avoid or amend them.
The book includes tips on how to avoid or address research that has:
• unclear purpose and audience,
• vague research questions or arguments,
• sampling, survey, or interview mistakes,
• plagiarized or fabricated content,
• unorganized structures, and
• sentence, word, or citation mistakes.
By showing these common pitfalls encountered while doing quantitative and qualitative research, this book helps students avoid common mistakes, aids teachers in identifying where their students can improve, and assists beginning researchers with clarifying general expectations for their research. This volume complements the first book, Researching Philippine Realities: A Guide to Qualitative, Quantitative, and Humanities Research, and is accessible to both senior high school and undergraduate students doing research.
Description: 180 pages ; 23 x 15 cm
Language: English
ISBN: 9789715509084