THE GREAT LIVES SERIES: Manuel L. Quezon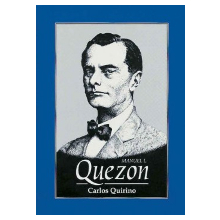 By Carlos Quirino
Published by Tahanan Books for Young Readers, ©1995.
Tahanan has given Filipino children, as well as their parents, an extraordinary chance to start honoring our national heroes in words as well as in deeds. — The Manila Critics Circle
For ages 8 and up.
Description: 31 pages : illustrations, portraits ; 26 x 18 cm
Language: English
ISBN: 971-630-029-8