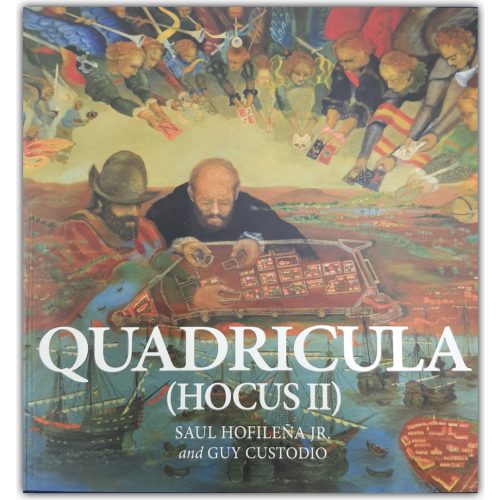 By Saul Hofileña, Jr. and Guy Custodio
Published by Baybayin Publishing, ©2018.
Saul knows his art as well as he does his Filipino-Spanish colonial history, his Holy Grail is getting them together. That's how his eye was so quickly caught by the man on a scaffold repainting a church mural in Bohol four years ago. This was Guy, the icon artist.
A year later, he was no longer restoring old art, but painting outrageous new images blending poetry and satire from Saul's fevered mind. Fueled by passion for human stories between the lines of archival material, fading memories, and official fictions, he wanted a fuller retelling of the Philippines history he was writing in long essays published in the book "Under the Stacks" six years ago. Meeting Guy crystallized his wish to deepen Filipino historical understanding with compelling portraits of Indios shaped and misshaped by "those who have subjugated, harmed, loved and betrayed us."
And so Philippine history continues in blood fire and lingering slavery. This time, new generations of Filipinos are coming forward with new weapons for winning full freedom.
Saul and Guy are right there with them, lending years of wisdom and skill, slowly revealing the dignity and strength still hidden in the roots of slavery. Academics would call this "a new narrative" of indio history. I call it creating a new history.
-Sylvia Mayuga
Description: 150 pages :color illustrations ; 28 cm
Language: English
ISBN: 9789719587460