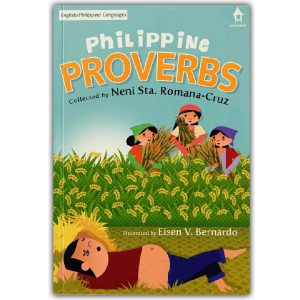 Collected by Neni Sta. Romana-Cruz
Illustrated by Eisen Bernardo
Published by Tahanan Books for Young Readers, ©2015.
Welcome to the delightful compendium of over 100 Filipino proverbs gleaned from around our archipelago, selected by bestselling author Neni Cruz and charmingly illustrated by Eisen V. Bernardo.
With renewed interest in mother tongue instruction, this book aptly showcases proverbs written in over a dozen Philippine languages and dialects, with English versions supplied.
Description: 93 pages : color illustrations ; 20 x 14 cm
Language: English
ISBN: 978-971-630-191-5