Inside Manila with Kids: A Travel Companion for Parents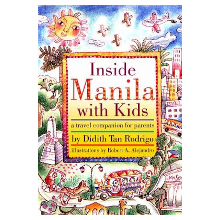 By Didith Tan Rodrigo
Illustrated by Robert Alejandro
Published by Tahanan Books for Young Readers, ©2001.
Here's a book that shows the best Manila has to offer the entire family! Tired of seeing your kids glued to a Playstation? Searching for new places to go? This is the book you've been waiting for! Didith Tan Rodrigo scoured Metro Manila, looking for fun and adventure for the whole family. Written for residents and tourists alike, the book recommends places to go and activities to get your kids hooked on science, history, culture, sports, or the simple pleasures of sightseeing! This handy travel guide includes maps, photos, and a short history of the Philippines. So come along and discover the City of Manila!
Includes Intramuros, the National Museum, Museo Pambata, Nayong Pilipino, Chinatown, malling mania, city festivals, lodgings, and restaurants, plus a lot more!
Description: 186 pages : illustrations, maps ; 19 cm
Language: English
ISBN: 9716301340