The Murillo Bulletin: Journal of PHIMCOS, Special World War II Issue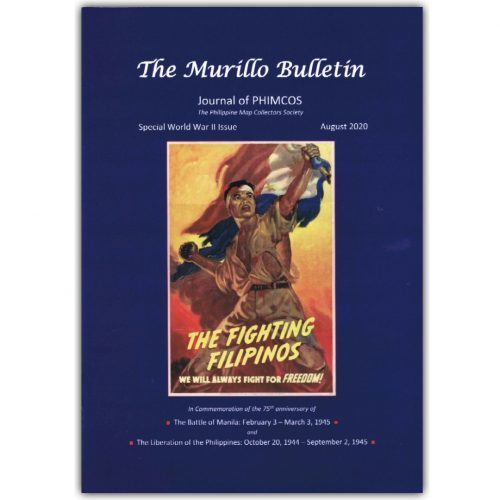 By PHIMCOS
Published by PHIMCOS, the Philippine Map Collectors Society, Inc., ©2020.
In Commemoration of the 75th anniversary of "The Battle of Manila: February 3 – March 3, 1945" and "The Liberation of the Philippines: October 20, 1944 – September 2, 1945".
Issues:
1) Introduction by Jaime C. Gonzalez.
2) Occupation and Victory – The Philippines in World War II, An Exhibition Organised by the
Ortigas Foundation Library and PHIMCOS.
3) Sweet Sixteen – Celebrating Life in 1945 Manila by Andoni F. Aboitiz.
4) "Crushed Jewels" – A Look into the Japanese Side of the Battle of Manila by Ricardo Trota Jose.
5) Rampage by James Scott, reviewed by John Silva.
6) "Yesterday's Enemies are Today's Friends" – The PWB's Leaflets, 1944-45 by Ricardo Trota Jose
7) G.I. Joe's View of the War – A cartoon map of central Luzon in 1945 by Peter Geldart.
Description: 56 pages : color illustrations ; 30 x 21 cm
Language: English