Chasing Clouds: A Decade of Studies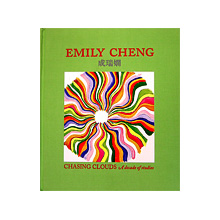 By Emily Cheng
Published by Timezone 8, ©2008.
Painter Emily Cheng has been working in the US and Asia for the last 30 years. This immense monograph focuses on 305 drawings that she has made in the last decade and includes an index that traces her diverse sources: Renaissance, Baroque, and Byzantine art and architecture; Chinese, Korean, Japanese, and Indian cultures; the study of drapery, largely through religious figures; and depictions of flora, trees, clouds, and fire in Taoist and Buddhist imagery.
This volume includes an introduction by Cheng and essays by curator Chang Tsong-zung and critic Kevin Power.
Description: 382 pages : color illustrations ; 28 cm
Language: English
ISBN: 9789889961763