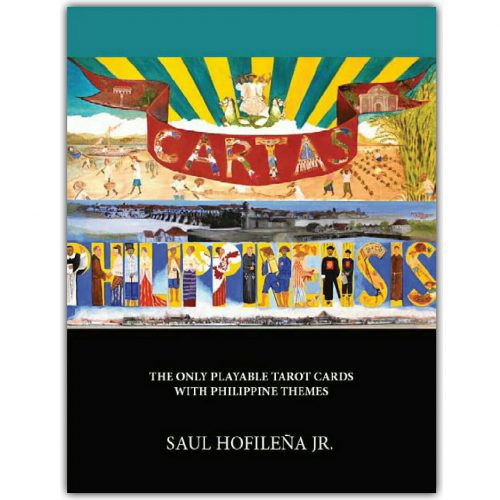 By Saul Hofileña, Jr.
Preface by Dr. María Cristina Barrón Soto
Published by Baybayin Publishing, ©2016.
Cartas Philippinensis by lawyer and professor Saul Hofileña Jr. is a reimagination and revisiting of our colonial past, the effects of which still reverberate through our present.
This self-published work comes in two parts – a deck of 22 Tarot cards in the Major Arcana and a book that explains the significance of the figures on each card, with a narrative of the inspiration or historical background for the images on the cards.
Cartas is presented in a box-shaped like a book. The art on the box cover recalls paintings of the 19thcentury. Inside the box is the deck of cards in a receptacle on the left inside cover, and the hardcover book in the recess on the right. The entire inside of the box is covered with burgundy fabric. Everything about it – box, book, cards – is of the best quality.
Description: 110 pages : color illustrations ; 21 cm + 22 tarot cards (16 x 9 cm)
Language: English
ISBN: 9789719587422