Boxer Codex, Second Edition (HB)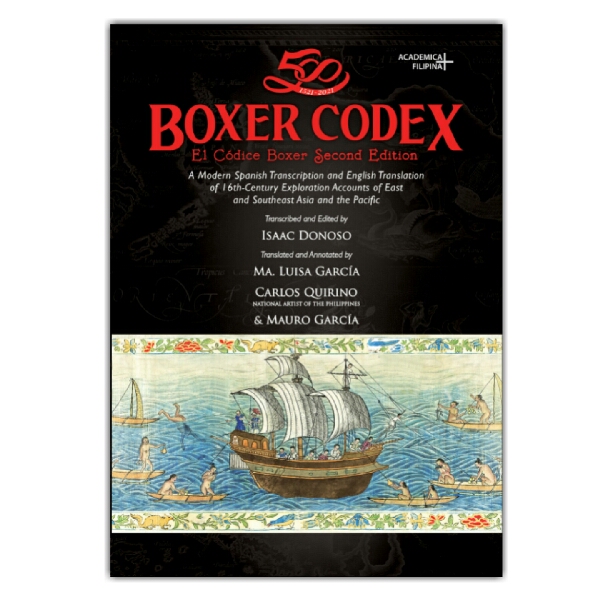 Transcribed and Edited by Isaac Donos
Translated and Annotated by National Artist of the Philippines Carlos Quirino, Ma. Luisa García, and Mauro García
Published by Vibal Group inc., ©2022.
In 1947, colonial Iberian scholar Professor Charles R. Boxer acquired a late sixteenth-century manuscript written by an anonymous scribe who had compiled several eyewitness accounts of both Spanish and Portuguese expeditions to Asia and the Pacific. Through detailed descriptions and lavish illustrations, this manuscript depicted the customs, costumes, and ways of life of the various peoples of East and Southeast Asia, particularly the Philippines. In the decades since the book came to light, an international constellation of scholars has expanded our understanding of this valuable document, which has given us the clearest depiction of the lives of newly colonized Filipinos and the politics of early modern Asia. As such, Boxer Codex is indispensable for understanding both Iberian and Asian encounters at a pivotal time in world history.
This second edition contains the complete color plates of the original manuscript, maps of the different expeditions, an extensive bibliography, and an updated introduction that situates the work in a global context and presents the intertwined stories of academician Charles Boxer and Philippine National Artist Carlos Quirino, whose friendship ignited global interest and passionate study of the codex. Coupled with a fresh English translation and a modernized Spanish transcription, Boxer Codex is not only a historic text with a singular iconography but also a work that can be enjoyed as a literary product of the Hispanic baroque period in the Philippines, Asia, and the Pacific.
This book offers a rigorous bilingual edition of the Boxer Codex, an essential work for scholars. At the same time, it opens a great door for the average reader who is invited to enter into a fascinating compilation of stories and images of sixteenth-century East Asia and the Pacific that are full of enigmas, ethnological wealth, and delightful details.

—Manel Ollé, Universitat Pompeu Fabra
No other single documentary source gathers more information about so many indigenous groups of Southeast Asia and the North Pacific during the early days of the Spanish colonization than the Boxer Codex. This treasure of firsthand accounts of detailed and revealing daily life is finally put in perspective and introduced and annotated for twenty-first-century readers in its original Spanish along with an English translation. This edition is meant to last as a primary reference for contemporary scholars for many years to come.

—Carlos Madrid, Director of Research, Micronesian Area Research Center
Description: 476 pages : 105 color illustrations, 3 maps ; 26 x 19 cm
Language: English and Spanish
ISBN: 978-971-97-0779-0