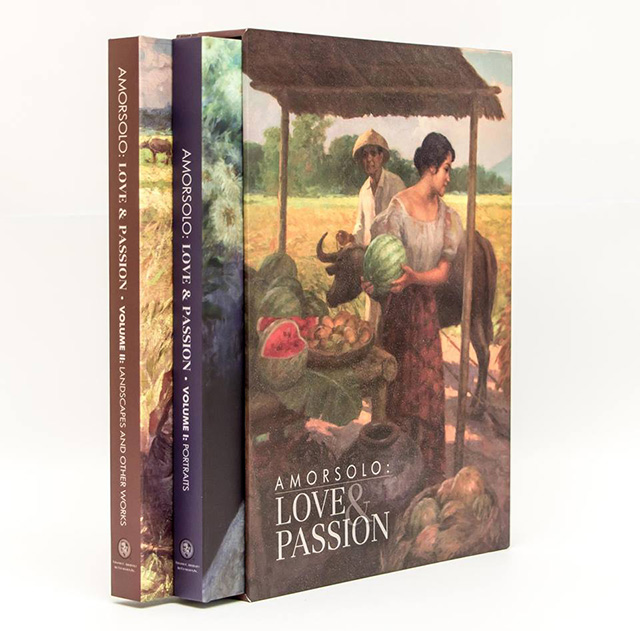 By Sylvia Amorsolo-Lazo, Edited by Krip Yuson
Published by Fernando C. Amorsolo Art Foundation, Inc., ©2017.
Amorsolo: Love & Passion, the two-volume coffee table book set, delves deeper into the stories and subjects behind the Maestro's famous portraits and landscapes, as recounted by his daughter and painting assistant Sylvia Amorsolo-Lazo.
The boxed set with two mini-coffee table books (sized at 9.5 x 12.75 inches) includes two volumes: the first of which is Portraits, which features 309 Amorsolo paintings and photos in the compact 188 pages, and Landscapes & Other Works, which includes 193 images by the renowned maestro.
Volume 1: Portraits, which features his works on prominent portrait subjects like Senate President Manuel L. Quezon, Enrique Zobel Ayala, and General Douglas MacArthur, among others, is an especially important piece of work as Sylvia Amorsolo-Lazo narrates the incredible stories behind each artwork. Volume II: Landscapes & Other Works, on the other hand, becomes a great kick-off point for modern art discussion, as young writers Carlomar Daoana and art critic Cid Reyes tackle the genius of the artist through the point of view of a millennial.
Language: English
ISBN: (vol. 1) 978-971-94324-1-8 ; (vol. 2) 978-971-94324-2-5