A Thousand Years of Stoneware Jars in the Philippines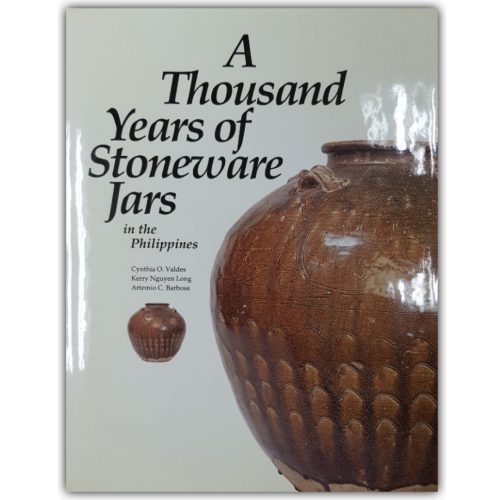 By Cynthia O. Valdes; Kerry Nguyen Long & Artemio C. Barbosa
Published by Jar Collectors (Philippines) with the support of Eugenio Lopez Foundation Inc. and in cooperation with the National Museum and the Oriental Ceramic Society of the Philippines, ©1992.
Large quantities of old Asian jars form part of public and private art and antique collections in the Philippines. Called storage jars "martaban" by the connoisseur, they are commonly known as "gusi" or "tapayan" by native peoples of the Philippines who continue to use them in the hinterland in the ritual context.
Originally fashioned as utilitarian vessels, jars were containers of water, wine, pickled foodstuff, and other provisions for the ship's crew during the long sea voyages from China to various ports beyond. A keen interest in jars developed in Southeast Asia and they eventually became trade items in themselves.
The book contains a collection of three essays on the subject of stoneware jars: the introduction provides a comparative picture of jar types found in the Philippines and the rest of Southeast Asia; the history and trade essay is an examination of historical facts relevant to the study of jars as well as trading routes and diverse nationalities involved in this trade into the archipelago; and the third essay is an ethnographic study of the role of jars in Philippine rituals.
Description: 199 pages : some color illustrations ; 29 x 22 cm
Language: English
ISBN: 971-91329-0-6