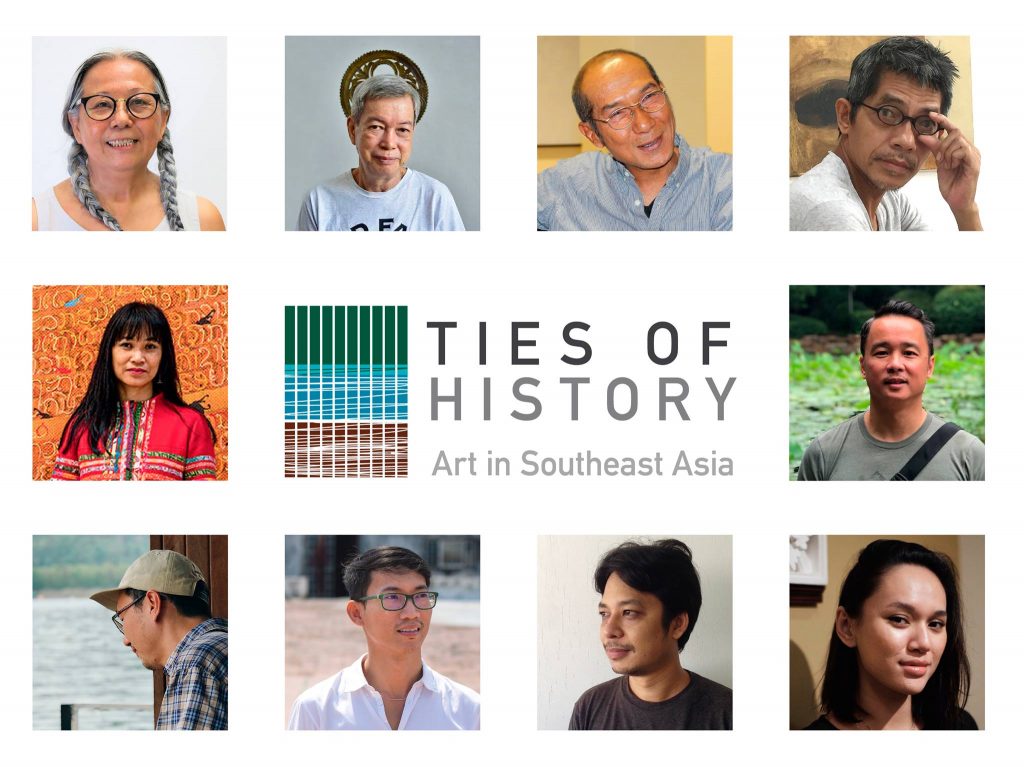 Ties of History: Art in Southeast Asia
MANILA, Philippines – Yuchengco Museum opens its doors again to the public with a new exhibition entitled Ties of History: Art in Southeast Asia, in commemoration of the 50th anniversary of the Association of Southeast Asian Nations (ASEAN). The exhibit features ten artists representing each ASEAN member state, held simultaneously in three major institutions in the Philippines: the Metropolitan Museum of Manila (MET Manila), the University of the Philippines Vargas Museum, and the Yuchengco Museum.
"Ties of history" is a phrase taken from a document signed by the ASEAN's founding members on August 8, 1967. The document describes ASEAN as "a region already bound together by ties of history and culture." A region that is "conscious that in an increasingly interdependent world, the cherished ideals of peace, freedom, social justice, and economic well-being are best attained by fostering good understanding, good neighborliness and meaningful cooperation among the countries of the region."
Ties of History: Art in Southeast Asia aims to identify artists from across generations who have demonstrated both responsiveness and range in relation to the concerns of aesthetic material and socio-historical contexts. The artists include Amanda Heng (Singapore), Roberto Feleo (Philippines), Anusapati (Indonesia), Do Hoang Tuong (Vietnam), Savanhdary Vongpoothorn (Laos), Chris Chong Chan Fui (Malaysia), Jedsada Tangtrakulwong (Thailand), Min Thein Sung (Myanmar), Lyno Vuth (Cambodia), and Yasmin Jaidin (Brunei).
In his opening speech, curator Patrick Flores, explains, "because the space of the exhibition does not settle in a single site and is rather dispersed across the three institutions in a city like Manila of exceptionally uneven developments, the project is able to present a cross-section of each artist's practice and at the same time understand how art spaces in Manila create opportunities for the exhibition of contemporary art."
Member of the Board of Trustees for Yuchengco Museum, former Prime Minister Cesar E.A. Virata describes the exhibit as "a mix of whimsical, political, academic and research and it is in these works that is a source of enjoyment and contemplation on the state of our neighboring countries and of the world."
Senator Loren Legarda, one of the Philippines leading cultural advocates, expresses her pride in the exhibit saying, "This is not only a showcase of contemporary art, but is also an attempt to strengthen the ties that bind us. This collaborative endeavor further puts the ASEAN countries in an in-depth understanding of the remarkable artistry and unique culture of each nation that may also reveal what we have in common, for us to find unity amidst diversity."
The three-institution exhibit is presented by the National Commission for Culture and the Arts (NCCA) through the Dalubhasaan Para sa Edukasyon sa Sining at Kultura (DESK) with the support of the Office of Senator Loren Legarda.
The exhibition will be on view until October 6, 2018.