Fifty Shades of Philippine Art: Francisco V. Coching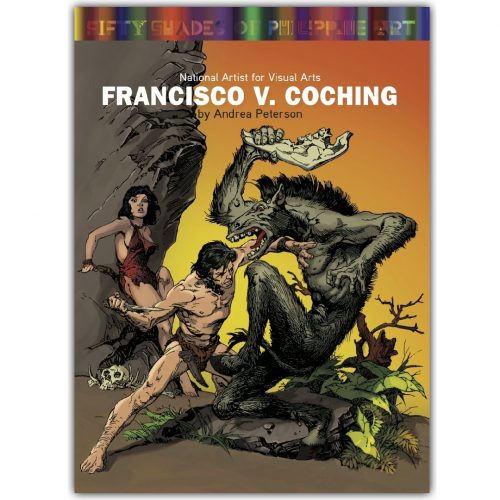 By Andrea Peterson
Published by Vibal Group, Inc., ©2019.
Illustrator and master storyteller Francisco V. Coching left his indelible mark on the visual arts of an era, in a career spanning forty years and over sixty komiks novels, including Hagibis, Barbaro, El Indio, Lapu- Lapu, Talipandas, Dimasalang, El Vibora, and many more. His work, encompassing historical epics, action-adventure, gritty urban thrillers, romance, comedy, has led him to be described as the "Dean of Philippine Komiks Illustrators." Almost all of his stories in komiks were adapted into successful films from major Philippine studios.
This book, lavishly illustrated with illustrations and excerpts from Coching's komiks, is a concise yet thorough exploration of his life and development as an artist: from his childhood years, following his father to work at Liwayway magazine; to his komiks debut as the
fifteen-year-old creator of Bing Bigotilyo in 1934; to his creative and productive peak in the 1950s and 1960s; to his retirement in 1974, and his final years and enduring legacy as a National Artist for Visual Arts and a master of Philippine comic art.
Description: 90 pages : color illustrations ; 31 x 23 cm
Language: English
ISBN: 978-971-97-0711-0