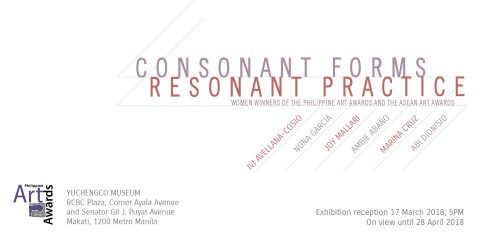 Manila, Philippines: Consonant Forms, Resonant Practice opened at the Yuchengco Museum last 17 March 2018. Winning works by women artists Ivi Avellana Cosio, Nona Garcia, Ambie Abaño, Marina Cruz, Joy Mallari, and Abi Dionisio from the Philippine Art Awards and the ASEAN Art Awards will be shown together with older and more recent pieces.
The Philippine Art Awards has redefined art competitions in the local context – doing away with fine arts categories to allow a breadth of visual mediums, organising cross-regional competitions, and initiating workshops on contemporary art. It has propelled the career of many artists and undoubtedly helped refine our approaches to both the production and reception of art.
The works in the exhibition share specific subject matter and themes: the body, places and vistas, and objects that allow reflection. Several of the images while rendered realistically, speak to the nature of reality itself.
Consonant Forms, Resonant Practice reflects on art competitions and women's participation in them. While competitions like the PAA and the ASEAN Art Awards have been instrumental to the careers of many artists, they are not the main arenas where women artists develop their artistic visions. The exhibition argues for a wider latitude of art making for women artists.
The works can be viewed at the Cone Room, the Bridgeway Foyer and Gallery at the museum's third floor until 28 April 2018.