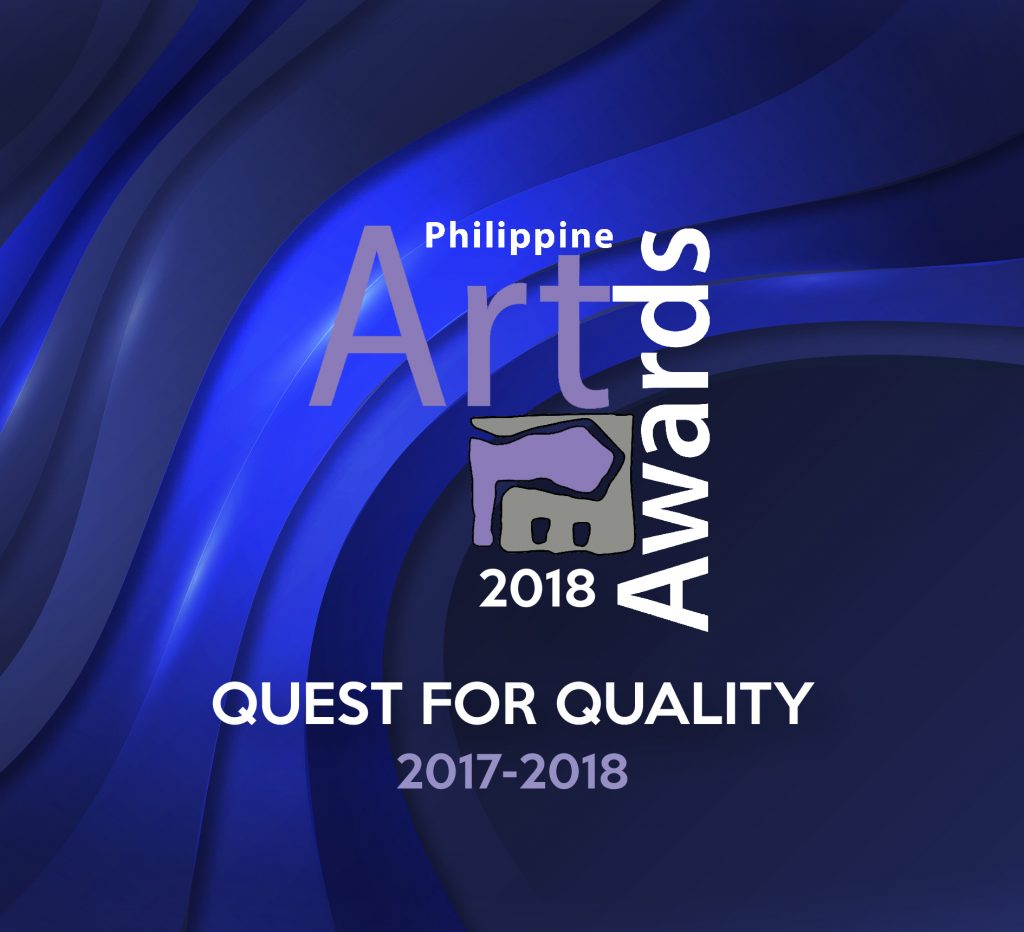 The Philippine Art Awards has, through the years, tried to cast a wide net to offer opportunities for Filipino artists to participate in an open competition in art. This has allowed them to locate their talent and expression in a field with others and to find out where they are at in the landscape of fellow aspirants, who may be peers or mentors, students or seasoned practitioners. This is a common platform where everyone deserves a chance to best others without prejudice to reputation.
This program has also attempted to develop the resources of Philippine art. The most significant of these efforts include the freeing up of the obsolete and needless divisions between media in the visual arts and the integration of such forms as photography, video, and installation. The widening of the latitude of the competition geographically through regional competitions with their own exhibitions has further extended the ambit of the initiative, enabling the communities beyond the center that is Manila to inflect the practice and the discourse of the contemporary in the country. It is currently the only truly national art program of competition and exhibition, pursuing a vision that has adequately invested in both curation and criticism and has patiently and diligently engaged the fraught category of "nation" and perhaps the afterlife of its oftentimes belabored "identity."
In this effort, standards of quality are being constantly refined according to both the demands of the social environment and the aspirations to complexity in discourse and technology. While the figurative is still the preferred mode of depiction, the "real" has been substantially reworked within conceptualism, digital media, a return to abstraction and, most of all, a concern for greater interpretive performance through the codes of and references to a gamut of sources: folklore, subculture, everyday news, art history, politics, and the density and, sometimes, the luminosity of the "real." Finally, social and aesthetic positions are cutting a sharper stance, specifically in relation to the defilement of both nature and person in our time and how the human agent is seen as complicit in its perpetuation and deliverance, how the social person and, therefore, society in its most ample and intimate reckoning, becomes deeply involved in the experience of a decline of values and, hence, of the "political."
All these innovations harness the sensibilities of artists to seize the prospects to create art in a truly interdisciplinary and cross-regional atmosphere. This gathering of artists who have been conferred the highest honors from the competition through the years testifies to the gains of this sustained endeavor.  It reveals the diversity of media and temperament. It scans expression across the archipelago. And it traces the transformation of both talent and tradition, marking the achievements of artists in the intersecting demands of skill, narrative, concept, material, and social response. Their art has become telling moments in the passage of contemporary culture.
– Patrick D. Flores, PhD