Yuchengco Museum Tote Bag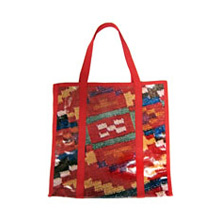 40 x 40 x 8 cm. Colors and patterns vary per bag.
Each tote bag is recycled from our previous promotional exhibit and event banners. The first series of limited-edition bags is made with banners for last year's Likhang Habi: Market Encounter 2 bazaar. Sturdy, washable, and waterproof, the bags are excellent for shopping, groceries, the gym, the beach, or the bookstore.