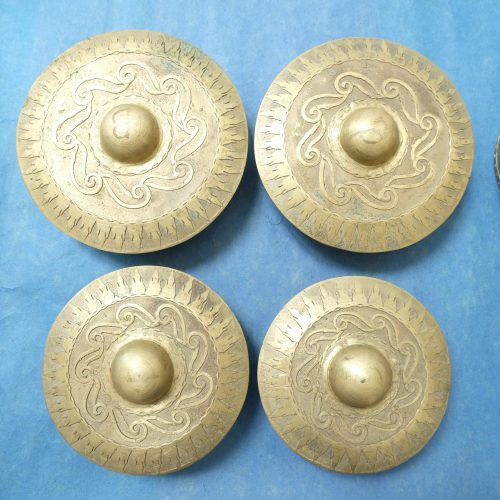 A Maguindanaoan kulintang ensemble is a gong-chime collection of instruments important to the musical culture of the Maguindanao people in the Southern Philippines. Kulintang music is used for celebratory occasions such as festivals, weddings, engagement parties, and baptisms, as well as in musical competitions.
Kulintang refers to the gong and drum ensemble indigenous to the Sulu and Mindanao islands in the southern Philippines and northern Borneo. The ensemble is named after the principal kettle gong instrument. Kulintang ensemble music is characterized by intricate rhythmic patterns achieved through the combination of a repeating bass rhythm above which a spontaneous, but tightly controlled, improvisation is played. Traditional ensembles varied from three to seven or more players, depending on the area. Kulintang, consists of eight knobbed bronze gongs that are graduated in pitch. It sits on a wooden stand called an antangan. Each gong is supported by thin cords attached to the antangan, to allow the sound to resonate. The number of gongs depends on the ethnic group. Kalanduyan plays the kulintang with eight tuned, knobbed gongs. The gongs are played with two sticks of softwood.
The kulintang, thought to have been brought from China in the third century of the Christian era, is looked to as the oldest of the performing-arts traditions. Related to the Indonesian gamelan, it is today rooted exclusively in the Muslim cultures of the islands of Mindanao and Maguindanao.